Microprocessor-based Protection Relays
SYMAP® Product Overview
SYMAP® is a flexible microprocessor-based digital protection and control device for use in low, medium, and high-voltage power systems. Because of its integrated protection functions and human-machine interface capabilities, it is an efficient and cost-effective solution for all types of switchgears.With three powerful microprocessors, SYMAP® offers complete protection and control functions for generators, motors (synchronous and asynchronous), transformers, power lines, and distributions. All protection functions can be activated simultaneously, and there are no limits in using all of them at the same time.
With SYMAP® , five main breaker controls can be activated with all the necessary functions, such as display, control, and blocking, for optimal breaker management. A small integrated PLC allows individual interlocks of control commands . For flexibility in commissioning and during use, both digital and analog outputs can be used to connect the SYMAP® control unit to main switchboard controls. Additionally, a variety of serial interfaces with different kinds of data protocols can be used for communication between SYMAP® units and the central control system.
For diagnostics and monitoring, SYMAP® has three microprocessors which supervise each other, and providing a watchdog system. Important functions are laid out in a double redundancy combination, operating independently with the second processor. Connected separately, an optional unit for short circuit protection operates parallel to the SYMAP® device and will do so even if the power supply fails.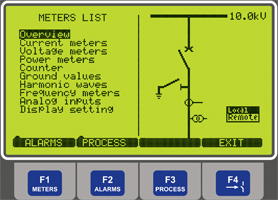 SYMAP® Human Machine Interface
SYMAP® is easy to program and operate. A large graphic LCD with optional LED indicators conveys important data, such as position of all connected breakers, parameter settings, and event history, at a glance. Graphics and measurement data are displayed side-by-side on the LCD, and the user does not have to switch between pages.
The programming is built in and is menu-tree driven, making setting parameters an intuitive process. Beside the option of doing the whole device configuration by application software "SYMAP Parameter Tool (SPT)", it is possible to set all available parameters by the keys of the front panel. Using a laptop offers certain advantages, such as parameter data stored in the laptop can be easily input into other SYMAP® units. Either way, ease of programming is guaranteed and on-site visits by the manufacturer's engineers during commissioning are not required.

SYMAP® provides four hotkeys under the LCD offering access to four groups of values:

- "Meters"
- "Alarm"
- "Process"
and
- "Breaker Control."

The user can press the hotkeys to scroll through pages of information pertaining to these values.
Under the hotkey "Meters," detailed information of electric measurement values, counters for active and reactive power, and working hours is provided. Byr the hotkey "Alarms," all active alarms, event stores, and blockings are displayed. Under "Process," all process data, such as synchronization display, motor thermal indication, and breaker counters, are shown. Under "Breaker Control," up to five breakers can be accessed and controlled. When programming breaker controls, the user has access to various layout configurations which are available through a library of graphics maintained within SYMAP® . Programmed blockings remain active when manual control of the breaker is used. Furthermore, each of the highlighted breakers in the LCD can be controlled by the keys "O" and "I."
For security purpose, access to SYMAP® 's parameters and breaker control data of SYMAP®is protected by a code system. The code system offers dual access: by a transponder card or by password input.

SYMAP® Terminal Connections
All connections to SYMAP® are made with terminal plugs on the back of the device, allowing the device to be exchanged easily. The terminal blocks are divided into four groups.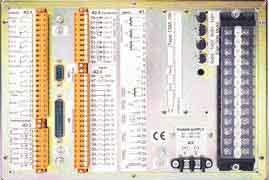 Analog Voltage and Current Measurement
SYMAP® provides various analog inputs for voltage and current measuring by conventional potential transformers (PTs) and current transformers (CTs) at the rear of the device. If terminal plugs for the CTs are disconnected, the circuits will be linked automatically, thus, there is no disconnection in the CT circuit loops. A total of 17 analog inputs for current and voltage transformers are used for protection functions. The following list shows possible connections for CTs and PTs:

- 3 x CT for feeder current
- 3 x CT for differential current
- 2 x CT for ground current
- 3 x PT for feeder voltage
- 3 x PT for bus bar 1 voltage
- 3 x PT for bus bar 2 voltage
- 2 x PT for ground voltage

In case of using combined sensors, SYMAP® provides:
- 3 x for feeder current
- 3 x for feeder voltage

Communication
SYMAP® can serve as the main bay controller for the power management system or substation system. The following list shows the station system items offered by SYMAP®:
- Remote supervision
- Remote control
- Remote parameter setting
- Central registration of measured and calculated values
- Central event logging
- Central fault recording, analysis and logging
- Plant power management
COMMUNICATION INTERFACES
SYMAP® can serve as the main bay controller for the power management system or substation system. It provides communication ports available with the following interfaces:
• RS 232 on the front panel for programming and data output
• 1 CANBUS 1 (factory protocol)
• 1 CANBUS 2 for engine
• RS422/RS485 port port (Modbus RTU)
• Fiber optic interfaces (Line diff. Protection / SCADA)
PROTOCOLS

• CANBUS 1 (factory protocol)
• CANBUS 2 (engine control: CATERPILLAR, DEUTZ, MTU, VOLVO, ...)
• PROFIBUS DP
• MODBUS RTU
• IEC60870-5-103
• IEC61850
Extended Board (Optional)
An extended board can be connected to SYMAP® , providing additional input and output channels. The extended board is customized to individual client requirements and can be equipped with a maximum of the following input and output channels:
- 36 digital inputs
- 24 relay outputs
- 8 analog outputs 4...20 mA
- 21 analog inputs PT 100 / PT 1000 or analog inputs 4...20 mA
SYMAP® Recording unit
SYMAP® 's recording unit contains up to three separate parts:

1) Event history,
2) Detailed protection function history,
and
3) Event data recorder (optional).
Regardless of power supply, data are to be saved in the non-volatile memory. All data recorded SYMAP® can be transferred and analysed via application software "SYMAP Parameter Tool (SPT)"
- Protection function events, such as activation and eventual intervention
- The change of binary inputs and outputs
- The control of Local/SCADA
- The change of each switching device
- ON/OFF commands by central power management system
- Any attempt or trail to give a command prohibited by interlocking
- Any alarm signal (also from diagnostics)
- Data logs for measurement inputs

Event History
SYMAP® automatically collects and stores all activated events indicating their number, title, coming/going status, and time stamp. A maximum of 5,000 events can be stored. In case of overflow, data overwriting operates according to the first-in-first-out (FIFO) principle.
Detailed Protection Function History
SYMAP® automatically collects and stores all activated events referring to protection functions with a time stamp.

- Event number
- Event title
- Time stamp
- Pickup or trip value (with fault phase indication)
- Setting value
- Trip time
- 3-line voltage and current pickup, synchronized with the trip event
A maximum of 1,000 protection function events can be stored. In case of overflow, data overwriting operates according to the first-in-first-out (FIFO).
Data Recorder (Optional)
The data recorder can log 16 analog inputs, 14 digital inputs, and 12 digital outputs. The recorder has the following settings:

- Number of samples (6 - 72)
- Recording period (5 - 60 sec)
- Pre-trigger (0 - 100%)
- Trigger event (stop for recorder)

The recording period depends on the set number of samples. The recorder can be set with a pre-trigger time to log the faultless period of a fault, too. Stopping the recorder can be triggered either by an event or by a pre-set time. For easier management and trouble-shooting, event data can be transferred and analysed via PC or notebook. A serial interface on the SYMAP® front panel serves as a communication port.
Diagnostics and Monitoring
SYMAP® has three microprocessors that supervise each other, providing a watchdog system. Important functions are laid out in a double redundancy combination, operating independently with the second processor. Connected separately, an optional unit for short circuit protection operates parallel to the SYMAP® device and will do so even if the entire voltage fails. SYMAP® provides various diagnostic and monitoring functions as follows:

- All memories (ROMs, RAMs, EEPROMs)
- All analog reference voltages
- Automated test sequences
- Control power ON/OFF of SYMAP®
- Binary input and output for control logic

The following supervising systems are offered by SYMAP® :

- Self-diagnostics of SYMAP®
- The inputs of analog data (auxiliary circuit)
- The status and position of switching device and motor's on-off status
- Supervising supply of trip coil
- Gas pressure
- Temperature inside panel
- Each operating life of breaker (hours)
SYMAP® Digital Protection Device
There are three type of SYMAP® units as follows:

-SYMAP® -Y Essential cost type
-SYMAP® -X Basic type
-SYMAP® -BC Basic type expanded to include LED indicators,